I can't remember a childhood when our family didn't have a pet. My first memory was around the age of 3 or 4 when we had a cocker spaniel named Brownie who liked to chew on my little rubber cars.
When Brownie passed away, my parents thought it best to have smaller, less dependent pets so I could learn to take care of them.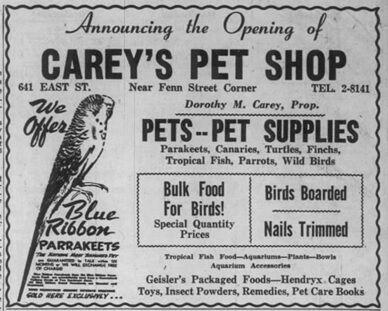 Raising three children in the 1950s and 1960s, our parents were reasonably in favor of having a variety of pets in our home. However, they didn't particularly like the snakes, frogs, salamanders and field mice I brought home from the nearby woods.
In 1954, my dad took me to the only complete pet store in Pittsfield, the brand new Carey's Pet Shop at 641 East St. He bought me a small three-gallon aquarium, some gravel, plants, and food. for fish.
The shop owner, Mrs. Dorothy Carey, helped me pick out some guppies and snails. Not only was this my first experience shopping at a pet store, but it was a learning experience about my new pets. Ms Carey pointed out that only the male fish were the most beautiful and colorful. I remembered my dad laughing when she shared that this was true of the sexes of most animal species except humans.
Shortly after that first visit, I was cycling with a friend to the pet store at least once a month to spend my weekly allowance (25 cents) on a variety of tropical fish. When I was 11, my dad bought a 30 gallon aquarium with a light, pump, and filter. We had over 40 fish in the tank, including a dozen different varieties.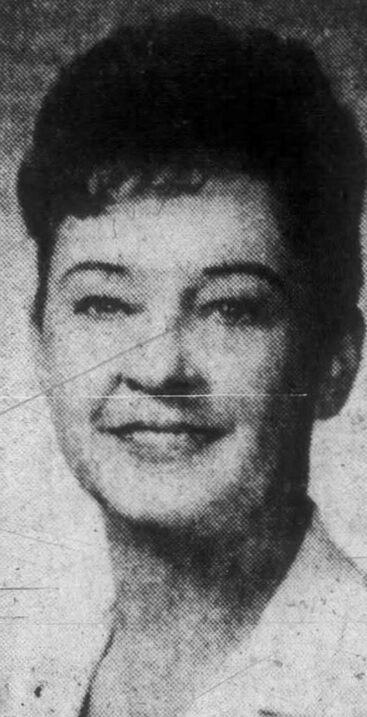 Carey's had become my favorite store and Mrs. Carey, whom I called Dot, was an excellent teacher of pet care. Our house soon had a small menagerie with turtles, chameleons and a few parakeets, all from the pet store. Dot had healthier and better cared for pets than the five pet departments.
I have always enjoyed my visits to Carey's Pet Shop and seeing the colorful parakeets, canaries, hamsters, turtles and other pets. I really enjoyed watching Wayne, the only resident capuchin monkey.
Capuchins are often the favorite pet of street organ grinders. Wayne became more of a member of Dot's family as she put a high price on him in her reluctance to part with the cute simian.
He ate a special diet of fruits, vegetables and nuts, and had his own cage in the Carey house, where he spent every night. Eventually, Dot sold Wayne when offered $300 – well above her asking price.
In November 1955, Dot Carey had moved the pet store to a house at 194 Elm St. She and her husband, Harold, had also moved to an apartment in the building.
The new shop's services included boarding birds and cats, bathing small dogs, and trimming the claws of pets. Sing Sing, Dot's beautiful Persian cat, greeted customers as they entered the store.
With Carey's Pet Shop just a few blocks from my house, I often stopped by just to hear the cat "sing" with her meows. I started to like the cat, but we had just adopted a small shepherd/husky mixed breed pup from the local SPCA. Dot's pet store didn't sell dogs or cats yet, but had plenty of dog toys, food, and pet supplies.
Dot's husband, Harold, a school custodian, became more involved in the pet business on a part-time basis. In 1960, the couple changed the name of the store to Dorhar (from their first names) and began breeding and selling AKC-registered German Shepherd puppies and Persian kittens. The shop has also added dog obedience training to its services.
As the dog breeding business grew, the Careys decided to move to a larger, more suitable space to have a kennel. Their own shepherds and those they sold won many dog ​​competitions which helped the business.
The couple sold their Elm Street building in May 1961, and it was razed for the construction of a Dairy Queen which opened in 1963. It was also razed to become dental practices in 1991.
After leaving the pet store, the Careys bought a place at 108 Caldwell Road, with plenty of space to raise dogs and provide other canine services. With the move, they abandoned the pet business and focused solely on dogs.
Within two years, Dot and Harold sold this location to the Massachusetts Society for the Prevention of Cruelty to Animals for a new animal shelter.
Over the years, the Careys had bought and sold many properties in the Berkshires. This experience paved the way for Dot to pursue a new career. She became a successful realtor, opening a real estate business in her Dalton Avenue home in August 1964 and later moving to an office in Lee.
She and Harold abandoned the Dorhar kennel business altogether. In 1966, after the couple divorced, Dot moved to Springfield and continued to do real estate.
I still love pets and have a frisky cat and a pond full of fish. I still think fondly of Dot Carey, who gave me an introduction to loving and caring for pets when I was young.
Jim Shulman, a Pittsfield native living in Ohio, is the author of "Berkshire Memories: A Baby Boomer Looks Back at Growing Up in Pittsfield." If you have a memory of a Berkshire boomer landmark, business or event that you would like to share or read, please write to Jim at [email protected]